Academics for Land Protection in New England (ALPINE) is a network of academic institutions committed to increasing the pace of land protection in New England to address the region's environmental challenges and to support nature and people. ALPINE seeks to expand the role that academic institutions can play in conserving the New England landscape by sharing experiences and resources among faculty and staff, students, administrations, and alumni.
The network's shared belief is that academic communities can be a powerful force for positive environmental change locally and globally.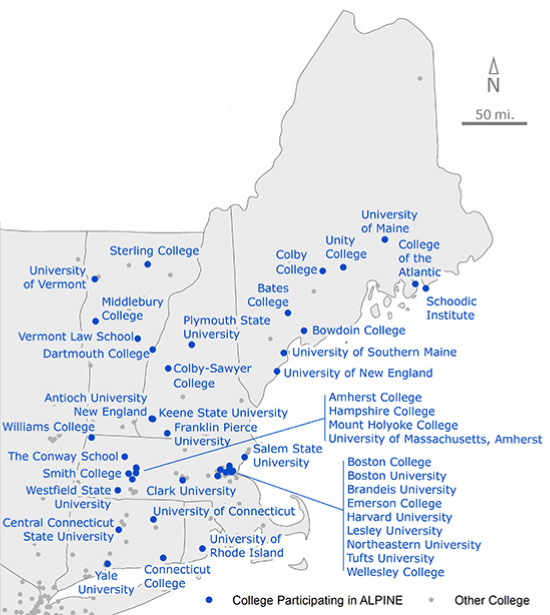 Universities in the ALPINE Network
New England is home to an incomparable concentration of colleges and universities encompassing more than 220 colleges and universities, 1.2 million students; 100,000 faculty; more than 130,000 acres of land; and a large alumni base with deep ties to the land. ALPINE engages this network in advancing land conservation with their own lands, and in their communities and regions and through the education of a new generation of conservation leaders and practitioners.
Looking for tools, resources, and ideas?
We've pulled them together just for you.
"College and university students, faculty, and administrators represent a formidable force in conserving land, advancing land justice and addressing climate change. ALPINE is fortunate to work with so many dedicated people and organizations in changing outcomes for our planet and its inhabitants."

Marianne Jorgensen, Program Manager, ALPINE