A thriving Wildland network in New England is vital for counteracting the global crises of climate change, biodiversity loss, and human health and safety. New England contains about 40 million acres of land. Of this land, 81 percent is forested and yet only 3.3 percent is considered Wildlands (1.32 million acres). Everyone from policymakers to citizens, landowners to conservationists, have a role in land conservation. Learn more about Wildlands and how you can help protect this most precious land.
Wildlands are a central part of an integrated approach to land conservation. They show the promise that nature has for recovery.

Why Wildlands are Important for New England and Beyond
Wildlands, by design, allow natural processes to unfold with no active management or intervention. These forever-wild places support global efforts to mitigate the impact of climate change while also securing the future of New England for all life — human and wild — to inhabit and enjoy.
Photo: Pisgah Hemlock Sapling. David Foster
Wildlands are tracts of any size and current condition, permanently protected from development, in which management is explicitly intended to allow natural processes to prevail with "free will" and minimal human interference. Humans have been part of nature for millennia and can coexist within and with Wildlands without intentionally altering their structure, composition, or function.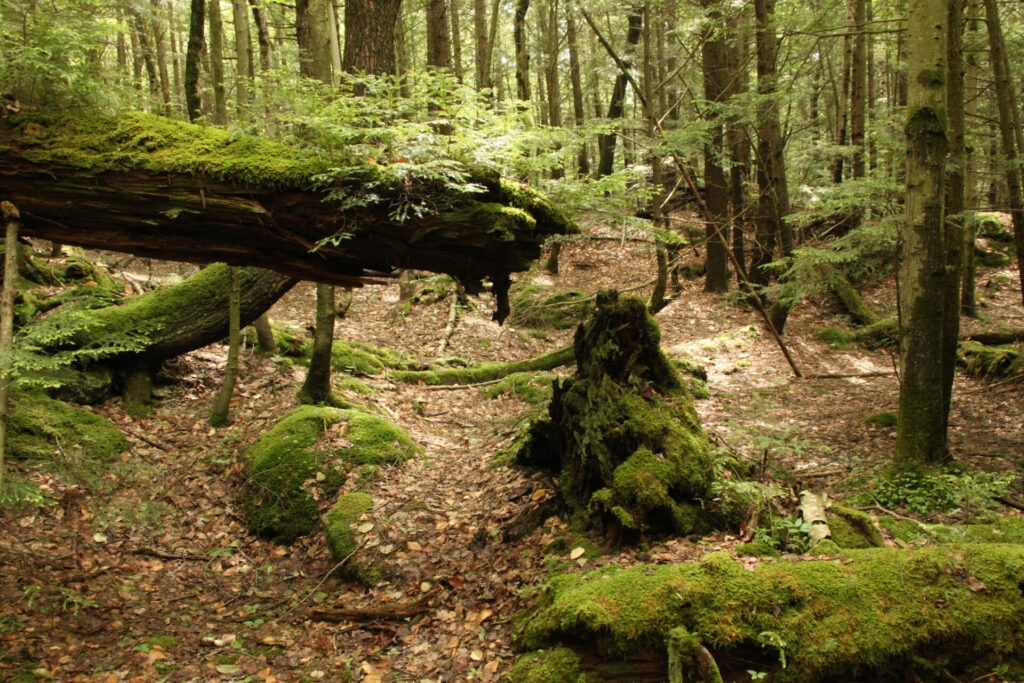 According to the Wildlands in New England study, 81% of the region is forested yet only 3.3% is considered Wildlands — this gap creates an urgent call to action for Wildlands conservation.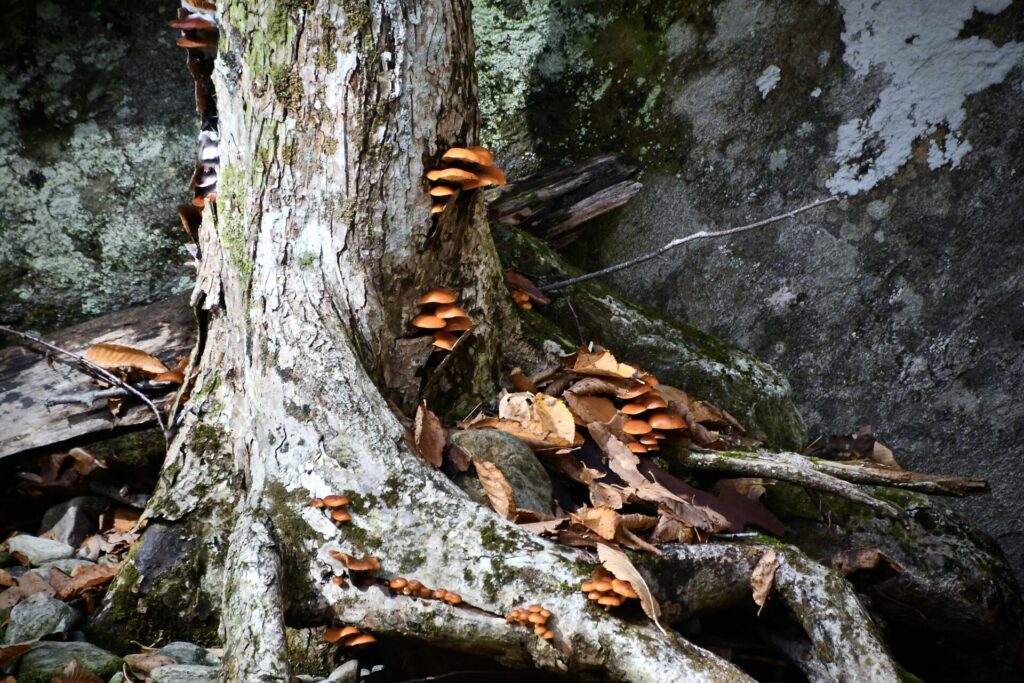 The Many Benefits of Wildlands
Wildlands are vital for nature and society as they:
Acknowledge and support the intrinsic value of wild nature to exist

Preserve wildlife habitat and biodiversity

Mitigate climate change by sequestering and storing carbon

Enhance landscape resilience through ecological complexity

Offer quiet space for spiritual and physical renewal

Serve as references for science, management, and conservation

Support 30×30, the global effort to protect biodiversity
Photo: Mount Mansfield State Forest. Elizabeth Thompson

Where Are the Wildlands?
Knowing precisely where Wildlands are located, their characteristics, and their protection status is important as a baseline for advancing conservation initiatives, identifying important unprotected tracts and assuring greater connectivity between tracts. This knowledge creates an urgent call to action and a clear direction for supporting nature and society.
The Wildlands in New England: Interactive Webmap shows the location and status of Wildlands throughout the region.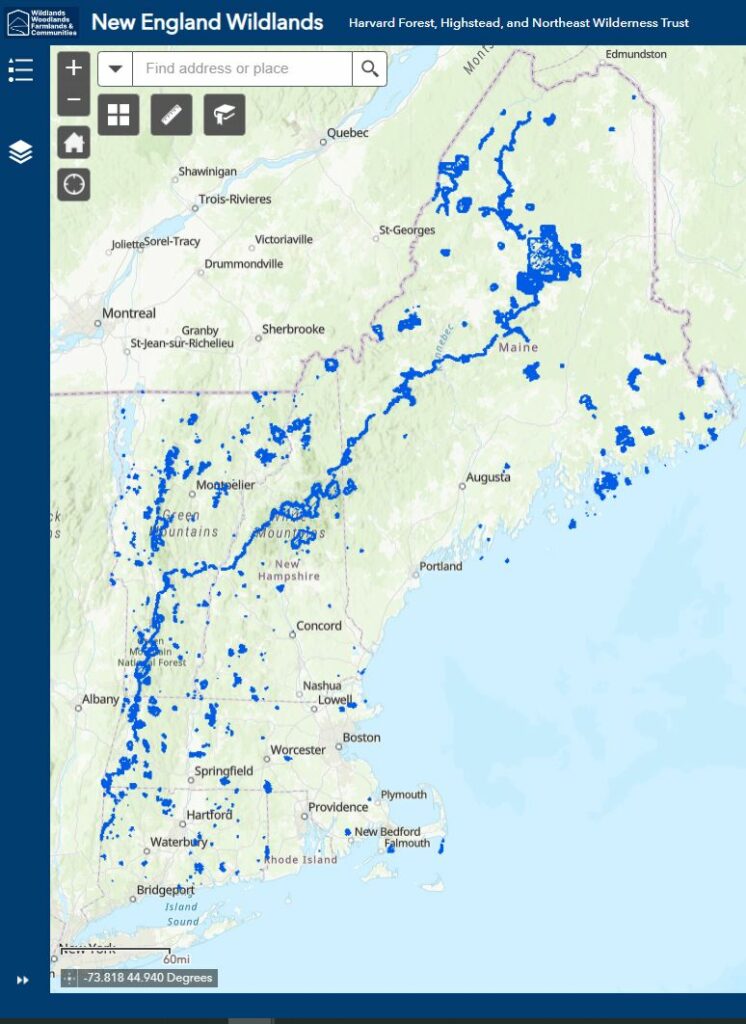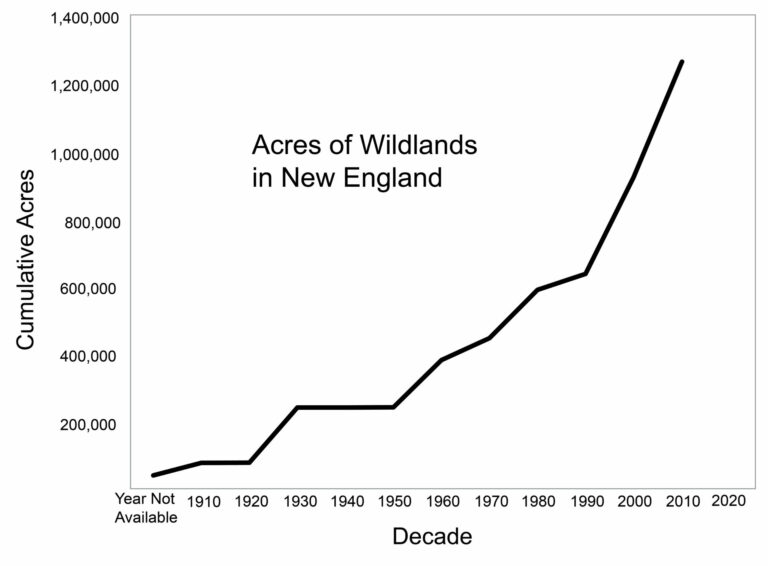 History of Wildland Conservation and Ownership
Wildland conservation in New England began slowly in the early twentieth century, increased through the 1990s, and surged from 2000 to 2023, a period in which more than 660,000 Wildland acres have been protected. The number of organizations, agencies, and entities conserving Wildlands in New England now exceeds one hundred and continues to increase.
While Wildlands conservation has accelerated in recent decades, we still have a long way to go. The WWF&C vision which calls for 10% of the region to be protected as Wildlands and our recent study Wildlands in New England combined with international goals for Wildland conservation, have urged us to evaluate elevating the goal to 20 percent or more.
This is good news, but we still have a long way to go.

An Integrated Approach
Wildlands goals cannot be achieved in isolation but as part of an integrated approach to New England conservation and land planning efforts that consider the interdependence of forests, farmlands, and communities. See how Wildlands fit into this integrated approach at the regional and state levels.
Photo: Alder Stream Wilderness Preserve, ME. Jerry Monkman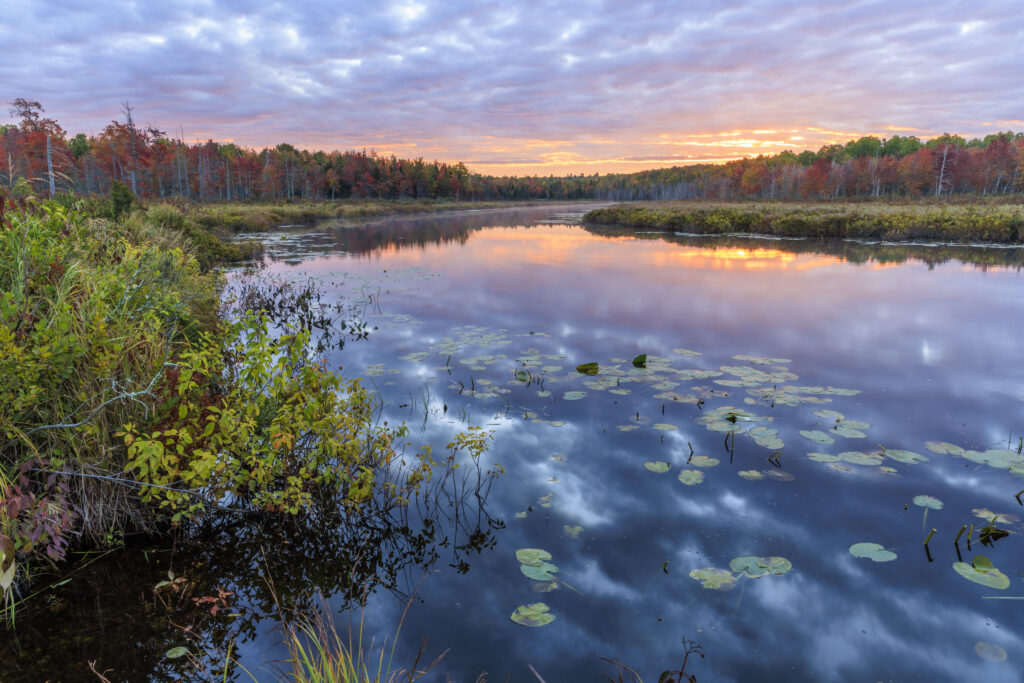 We must preserve significantly more Wildlands in New England. To this end, WWF&C partners: Harvard Forest, Highstead Foundation, and Northeast Wilderness Trust published Wildlands in New England — the first U.S. study to map and characterize all conserved lands in one region that by design, allow natural processes to unfold with no active management or intervention.
The report calls upon policymakers, landowners, and conservationists to take action.
of New England is considered Wildlands