In the third quarter of 2021, several Academics for Land Protection in New England (ALPINE) network participants made presentations to the Association for the Advancement of Sustainability in Higher Education (AASHE) conference, and to an online meeting hosted by the Second Nature network. Presenters urged colleges and universities to take urgent climate action and to extend their work beyond campus sustainability to embrace the call for transformative action on climate, biodiversity, and human well-being.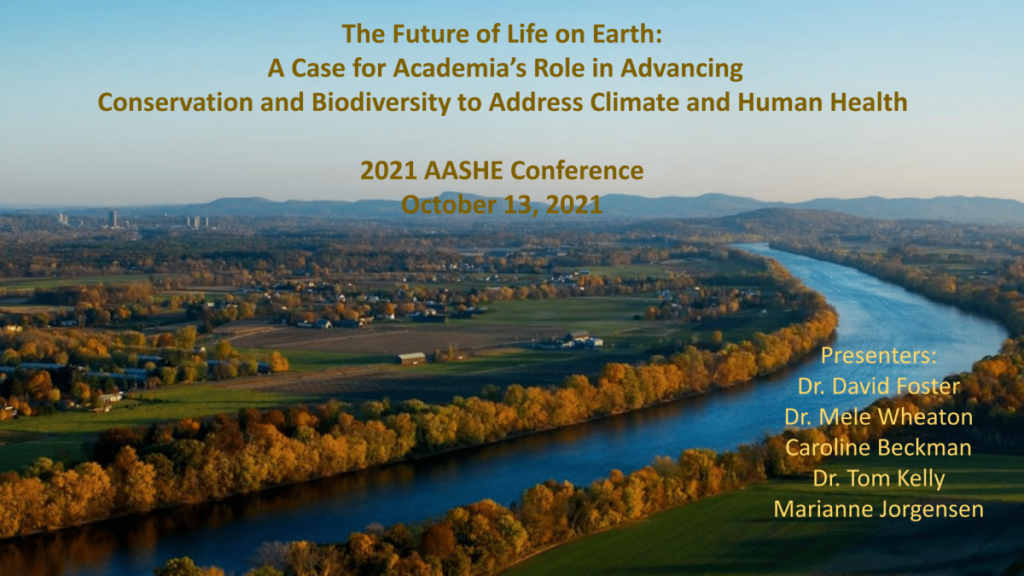 The AASHE presentation, entitled The Future of Life on Earth: A Case for Academia's Role in Advancing Conservation and Biodiversity to Address Climate and Human Health, was presented by: Tom Kelly, Executive Director of the Sustainability Institute and Chief Sustainability Officer at the University of New Hampshire; Mele Wheaton, a research scholar in the Social Ecology Lab at Stanford University and Caroline Beckman, student researcher; David Foster, Senior Conservationist at the Harvard Forest and Marianne Jorgensen, ALPINE network manager. The Powerpoint presentation is available here.

The Second Nature presentation, entitled The Importance of Academia's Role in Advancing Conservation and Biodiversity to Address Climate Change and Human Health, introduced the audience to the 30×30 initiative and its connection and importance to climate, environmental justice, and human health objectives. The authors called on institutions take climate action by pivoting to engage in their communities, regions, and nationally to be involved in land stewardship and conservation as natural climate solutions. View this Second Nature Webinar presented by David Foster and Marianne Jorgensen here.
About AASHE: AASHE advances sustainability in higher education, serving a full range of higher education faculty, administrators, staff and students who are change agents and drivers of sustainability innovation. Established in 2005, AASHE is comprised of over 900 members across 48 U.S. states, 1 U.S. Territory, 9 Canadian provinces and 20 countries.
About Second Nature: From its founding, Second Nature has worked to expand higher education's ability to solve pressing sustainability challenges. We do this by mobilizing a diverse array of higher education institutions to act on bold climate commitments, to scale campus climate initiatives, and to create innovative climate solutions. We align, amplify, and bridge the sector's efforts with other global leaders to advance urgent climate priorities.