The ALPINE webinar series has been offered for free each spring and fall since 2019. These webinars showcase expertise in and collaborations with land conservation at higher education institutions.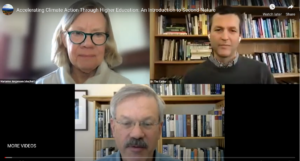 The webinar series features a diverse range of topics related to land conservation which include faculty collaborations with land conservation organizations, current faculty research, programs and teaching pertinent to land conservation, examples of management of college and university lands and organizations, programs and networks that work with colleges and universities to address climate change and sustainability.
ALPINE's objective in offering these webinars is to deepen the opportunity for exchange, learning, and dialogue across institutions and with a diverse range of land conservation initiatives.