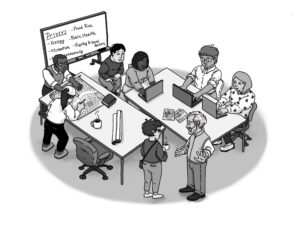 As a follow-up to H2H's 2018 rural and suburban strategic conservation mapping efforts, we decided to dig deeper into one of our region's cities to better understand how we can identify and prioritize conservation projects in an urban setting. In our 2021 project, we present Norwalk, Connecticut as a case study for strategic mapping modified for an urban landscape. The project consists of an interactive online map which highlights Norwalk's priority conservation sites by taking into account a variety of social, health, or environmental variables, and a PDF conservation mapping guide that outlines the methods, data sources, and stakeholder engagement that H2H used to create the online map.
Thanks to the great support from Lisa Shanahan of the Norwalk Land Trust, and nearly two dozen City stakeholders and partners, we were able to create a working example of the different ways people connect to and value natural spaces in an urban setting. One of our key takeaways is the importance of evaluating the needs of people and natural spaces side by side, especially in an urban setting, given the population density and the integration of natural spaces into the community. We also saw how these natural spaces provide important co-benefits to the residents of Norwalk, from flood mitigation to air and water filtration and to management of the urban heat island effect.
We encourage you to take some time to explore the tool and see how it might apply to cities and towns in your region. Please reach out to kblake@highstead.net if you have any questions or feedback, or if you are interested in adopting this tool and process for your city.