This past Fall 2021, students from Yale School of the Environment teamed up with landowners from Connecticut's Quiet Corner to help them achieve forestland management goals as a part of their "Management Plans for Protected Areas" course. As a collaboration between the class and the Quiet Corner Initiative (QCI), a member of the Regional Conservation Partnership (RCP) Network, the students worked with forestland owners to develop a detailed biophysical survey, social assessment, and management plans. The projects, which are developed over the course of three months and often include hundreds of pages, are designed to achieve a variety of goals such as food production, water quality protection, and wildlife habitat enhancement. The students work with the landowners to meet their needs and create recommendations for how to best manage their land in-line with specific goals. The course is taught by Professor and QCI research manager Mark Ashton and allows the students to apply all the skills they have learned to real-world management applications.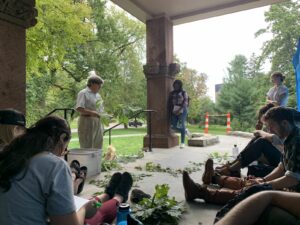 Over the past ten years, Yale students have completed 58 plans covering 4,593 acres of the Quiet Corner, an undeveloped region that is the last area of rural land in the Boston to Washington, D.C. urban corridor. The Quiet Corner Initiative in particular functions as collaborative between these landowners and Yale faculty and students to help improve the capacity for sustainable land management and stewardship in the region. In working with these students and connecting with other Quiet Corner landowners, further collaborations have been made down the line, such as stream protection plans spanning multiple properties. Students gain the experience in generating management plans while landowners gain practical recommendations for managing their lands within the Quiet Corner region.
To read more about this past fall's course and the student's projects, check out this Yale Forest Forum article here.