The Rensselaer Plateau Alliance, a coalition of organizations and individuals that works to conserve New York's Rensselaer Plateau forests and ecologically important areas, was awarded a Natural Resources Conservation Service (NRCS) Regional Conservation Partnership Program (RCPP) grant of over $6 million for their Uplands to Lowlands Climate-Resilient Cores and Connectors project. This project involves a partnership of 10 Northeast land trusts and three Regional Conservation Partnerships (RCPs) working together through 2026 to conserve the forested hills and riverside lowlands of the Hudson Valley to Vermont. This RCPP grant program allows conservation partners to collaborate with the NRCS to help farmers, ranchers, and landowners conserve water, soil, and wildlife habitat, and simultaneously increase climate resilience.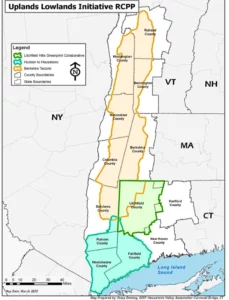 The reception of this grant is the result of multiple years of relationship-building and collaboration between the Rensselaer Plateau Alliance (RPA) and regional partners who are all working towards a similar goal of land conservation. RPA has been built a partnership with Highstead, Columbia Land Conservancy, and the Housatonic Valley Association, along with 6 other land trusts in order to produce the project proposal. The project involves three Regional Conservation Partnerships in total: The Berkshire Taconic Regional Conservation Partnership, Hudson to Housatonic (H2H), and the Litchfield Hills Greenprint Collaborative. The goals of the project align closely with the multi-state (New York, Connecticut, Massachusetts, Vermont), landscape-scale initiatives of these partnering groups and imparts a mutually-beneficial relationship that advances the groups' visions for land conservation.
The Uplands to Lowlands Climate-Resilient Cores and Connectors project, to which the grant was awarded, proposes to protect forested uplands and farmland from development through the help of conservation easements. The project involves land management such as restoration of riparian buffers and pollinator pathways to conserve the biodiversity of the region, while also aiming to improve forest connectivity, sequester carbon, and support the goals of 30×30.