The Northeast Wilderness Trust (NEWT), a non-profit land trust spanning the Northeast, took an innovative approach to the development of their Woodbury Mountain Wilderness Preserve by creating a carbon finance partnership with two investment companies, the Inlandsis Fund and Bluesource LLC. The initial purchase of the land for the Preserve was thanks to both investment by Inlandiss Fund as well as carbon offset revenue and funds raised by over 130 individual donors. Due to this partnership, Woodbury Mountain Wilderness Preserve is now Vermont's largest non-governmental wilderness area and the largest carbon offset project on wildlands in the state.
The project will be listed with the American Carbon Registry and will generate Wild CarbonTM offset credits, which is a NEWT program that generates and markets carbon credits derived on recently protected wildlands that are permanently conserved with a legally binding Forever-Wild Conservation Easement. This easement is now held in perpetuity by the Vermont River Conservancy, meaning that the Preserve will remain as a protected landscape and carbon sink as its forests grow old and go through the process of "passive rewilding". All revenue derived from the carbon offsets comes from forests that will never be logged again, contributing further to the ecological co-benefits of this project.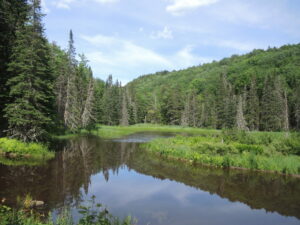 In early December 2021, NEWT originally purchased over 5,400 acres in Vermont as the first step in the creation of the Woodbury Mountain Wilderness Preserve. Approximately one week later, they additionally purchased the Eagle Ledge Addition, which expanded the Preserve by another 500 acres and connects three land parcels to one another. This addition is critical for the preservation of core interior forest habitat as well as forest block and wildlife corridor connectivity. The Preserve lies in the Worcester Linkage, between the Worcester Mountains, the only remaining undeveloped mountain range in Vermont, and the Northeastern Highlands. The land is made of up of a rich combination of both previously-logged and middle-aged forest Northern Hardwood Forests and expansive wetlands, supporting a diversity of species and protecting two major stream headwaters.