The Northeast Wilderness Trust (NEWT), in partnership with The Forest Society of Maine (FSM), recently announced the completion of the Grafton Forest Conservation Project. This acquisition of this 6000-acre land parcel, which was several years in the working, is the largest purchase in history for the non-profit and is now permanently protected for land conservation. This project is also part of a larger collaboration with FSM, who holds an additional 15,000-acre easement of sustainably-managed forest adjacent to this newly created preserve. Together, these two areas create a conservation corridor that connects hundreds of thousands of acres from western Maine mountains to New Hampshire.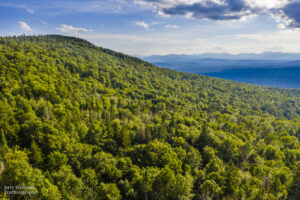 The completion of this project, which also happens to align with NEWT's 20th anniversary, contributes directly to the Wildlands, Woodlands, Farmlands, & Communities vision, which aims to conserve 70% of the Northeastern region as forest and 10% of the conserved forest to be naturally reshaped as "wildlands". The Grafton Forest Wilderness Preserve, as it is now called, contains watershed habitat as well as sensitive high elevation and lowland forest areas. The elevational gradient makes the region particularly resilient to climate change and the forest will be left to go through the process of "rewilding." Jon Leibowitz, Executive Director of NEWT, shared that "Rewilding is a way to help nature heal by giving it space and time to rest. Wild places are essential to ecological health and at the same time, store and sequester amazing amounts of carbon, making them wildly beneficial to people, too." In addition, the adjacent 15,000-acre easement contains sustainably managed forest, which is now protected from conversion to non-forest use while still being maintained for public access. The protected land also includes a portion of the Appalachian Trail and the boundary and headwaters for the Umbagog National Wildlife Refuge.
All together, the Grafton Forest Conservation Project aims to protect habitat for wildlife, allow forests to be managed sustainably for the production of timber products, and encourage public access to Maine's recreational areas. You can read NEWT's press release on the project here, and FSM's announcement on their site here.