The North County Land Trust (NCLT), based in north-central Massachusetts, has been working the past few years on a community conservation project that started with purchasing a small 1.5 acre parcel of land and has progressed into the development of a community garden for the residents of Fitchburg, MA. In 2019, NCLT purchased this plot of land on Quarry Lane to ensure its permanent protection and partnered with local organizations and the City of Fitchburg to manage stewardship and access to the property. The NCLT realized the great value of this undeveloped lot and took advantage of the purchase as an opportunity to both protect the abutting properties from the flooding risk that development would've brought and build community while enriching the education of the adjacent Busy Bees Preschool.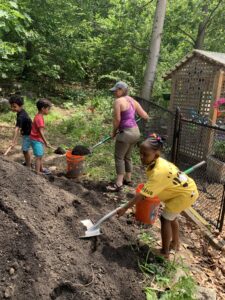 The Quarry Lane lot sits next to over 100 acres of City conservation and municipal land, and most importantly, the Busy Bees Preschool, which is notably diverse and also prides themself on their award-winning natural playground. If the land were developed, it would have not only increased flooding risk to the neighborhood and preschool, but would have removed both the trees and access to the abutting City land. NCLT specifically saw the project surrounding this land acquisition as a way to "Protect environmental justice neighborhoods from further disturbance, provide community building and outdoor learning opportunities, and promote nature-based play and outdoor recreation." Thus, in partnership with other local conservation and municipal groups, NCLT has turned the space into a community garden that serves the local community and provides an educational experience for students at the Preschool.
In early 2021, to further these efforts, NCLT and Growing Places were awarded a $31,000 grant from the Amelia Peabody Foundation to work with stakeholders and the Preschool to build a multigenerational community learning garden. This past fall, they closed up on their first gardening season with the help of volunteers and the Busy Bees students and have already planned for the 2022 gardening season. Be sure to follow-along and check out their video on the project below.