The High Peaks Initiative (HPI) seeks to protect important natural resources, secure public access, and support healthy human and natural communities in the most mountainous region of Maine. With the help of Academics for Land Protection in New England (ALPINE), HPI has developed a mutually beneficial relationship with nearby Colby College to enhance these goals. A guiding principle of the High Peaks Initiative is that the work of the partnership should be driven by community values. HPI had anecdotal information on the impact of conservation and recreation in the area, but wanted some data to support it. Conducting a study to quantify the value of impacts from conservation and recreation could inform a longer-term collaborative effort to market the region.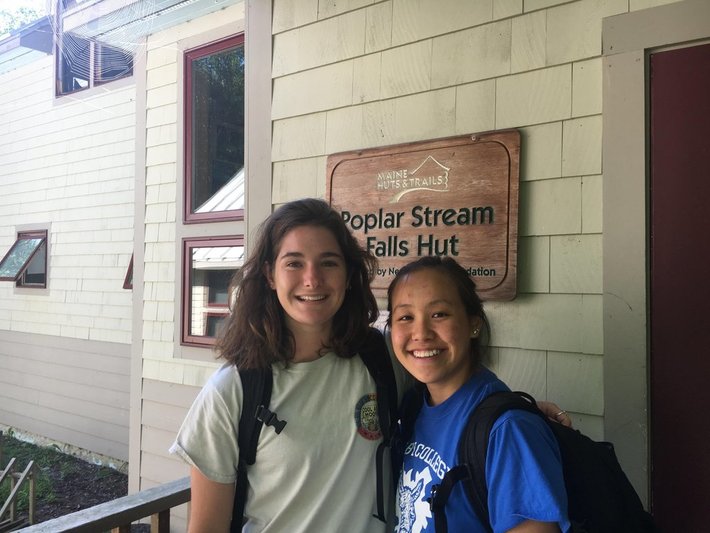 With these research goals in mind, the partnership connected with Philip Nyhus, Colby College Environmental Studies Program Director, to assess how High Peaks and Colby could work together. With funding from the Colby Buck Environment and Climate Change Lab, the College was able to supply HPI with summer interns, GIS support, expertise in natural resource economics, and all other necessary resources. Colby economics professor Michael Donahue, who had completed similar studies in the Belgrade Lakes region, and David Vail, an economics professor at Bowdoin College assisted with study design. Colby students Lily Wong and Sally Burke spent the summer journeying around the High Peaks region, surveying people at trailheads, restaurants, beaches, bicycle paths, in towns, and elsewhere to engage a diverse pool of visitors. The survey asked questions about how the visitors heard about the region, where they were coming from, and what sort of activities they planned to engage in. Business surveys were sent to over 500 local businesses during the fall to obtain even more economic profiles. Both the surveys to visitors, and those to businesses sought to determine how nature and ecotourism contribute to the local economy.
Through this collaboration, HPI was able to provide the Colby students a valuable internship experience where they contributed to cutting-edge economic research pertaining to local conservation and recreation assets over the course of a summer exploring the High Peaks region. The High Peaks Initiative will soon have a completed economic study on conservation and recreation impact in the region, a project the RCP would likely not been able to take on without the resources and connections of Colby College. This project is an example of the kinds of mutually beneficial relationships between regional conservation partnerships and academic institutions that ALPINE is seeking to foster across New England in an effort to build new capacity for conservation.