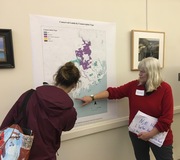 Conserved land can generate many economic benefits for human communities. But how exactly do acres conserved translate into tangible economic benefits? And how are these benefits distributed within regions and communities? Answers to these questions are not straightforward; yet it seems land conservation alone is not necessarily inherently equitable. The results of the Downeast Conservation Network's (DCN) enlightening study on the Economics Benefits of Conservation raise questions of distributional equity, and are sparking discussions on how to increase the number of people who benefit from land conservation to best serve the needs of communities in the region.
DCN took the initiative to conduct this study to gain a better understanding of the value of conservation land, which would enable DCN to improve the partnership's conservation efforts benefiting residents of Downeast Maine. The results of DCN's Economic Benefits study were released at DCN's seventh annual Convergence conference, which was dedicated in large part to discussion of the study's findings. This study, conducted through the University of Maine, mapped and valued a total of 702,000 conserved acres in Hancock and Washington counties. Both market and non-market benefits of conservation land were taken into account, including recreation, clean water, blueberry & timber production, carbon sequestration, visitor spending, employment, and science & education.
Once the numbers were in, it was evident that not all conserved acres are created equally; the use, and thus, economic impact, of conserved land varies widely throughout the region. Protected land in Washington County, much of which is commercial forestry land, is primarily conserved by easement (70%), whereas land in Hancock County serves primarily to form the basis of a recreation economy, and is more likely to be conserved by fee purchase (78%). Perhaps most notably, visitor spending from recreation lands was by far the greatest sum of conservation benefits contributing to Downeast Maine's economy. However, 96% of this visitor spending – $291 million – is linked directly to Acadia National Park, which is located in Hancock county and comprises only 7% of the total area of conserved lands. Acadia also provides 63% of conservation-related jobs in the region, accounting for 71% of conservation-related wages. On the other hand, Washington County, which accounts for 58% of total acreage and 73% of conserved acreage in Downeast Maine, sees less than 4% of the funds contributed by visitors. Conserved land throughout both counties is surely valuable for its timber and blueberry production, as well as carbon storage benefits, but these numbers pale in comparison to visitor spending.
While the economy of Mount Desert Island is booming – with many of its towns nearing build-out – rural communities in the Downeast region are shrinking, with little economic opportunity and aging populations. Even on Mount Desert Island (which lies in Hancock County), conserved lands are not a panacea. While visitor spending generates a significant amount of money, these funds are not evenly distributed throughout the year. Seasonal profits and seasonal employment create their own challenges to maintaining a thriving year-round community. Additionally, the traffic and crowds generated through tourism are not always welcomed by locals. Even some visitors, trying to escape from the busyness of their everyday lives, desire to vacation in a place less impacted by tourism. The distribution of benefits within tourist communities can be contentious, too. Families who have lived in the area for generations are concerned that business owners from "away" are deriving the majority of tourism's benefits, and that communities are not properly involved in decisions regarding land conservation.
This all leaves us with some vexing questions: How can we ensure that conserved lands actually deliver tangible benefits to all rural communities, in Downeast Maine and elsewhere? How do we better integrate communities into conversations and decisions about land use? How do communities create a vision for their future, when intergenerational poverty drives many to focus on the short-term? And how do we factor in the effects of a changing climate into this all?
These questions, and others like them, will certainly influence DCN's conservation strategy in the near future. In fact, there are some nearby examples that could even serve as a starting point: The Appalachian Mountain Club is putting efforts behind expanding the recreation economy near the Appalachian Trail, while other groups are working to create marketable carbon credits from conserved forestlands to finance further forest conservation. Nonetheless, questions of distributional equity remain in many of these efforts, and developing new solutions will likely be a priority in the region moving forward.