The 2021 Global Congress of the International Land Conservation Network (ILCN) and the European Land Conservation Network (ELCN) brought together an international community of private and civic land conservation practitioners to advance their work and build capacity by sharing expertise in conservation finance, law, and policy, organization and governance, land stewardship, large landscape conservation, and conservation technology. Jim Levitt is the director of the ILCN at the Lincoln Institute and is a Highstead fellow.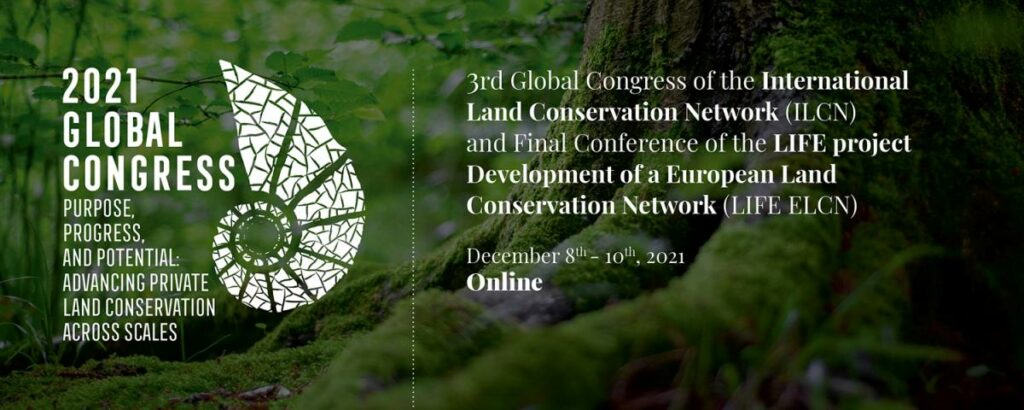 The Congress was held over 3 days from December 8-10. The event was held virtually with over 35 sessions and 40 hours of sessions and programs. They had 908 registrants from 89 countries.
A full list of registrant countries follows:
Albania, Algeria, Antigua and Barbuda, Argentina, Armenia, Australia, Austria, Bangladesh, Belgium, Belize, Bolivia, Bosnia and Herzegovina, Brazil, Bulgaria, Cambodia, Cameroon, Canada, Central African Republic, Chile, China, Colombia, Costa Rica, Croatia, Cyprus, Czechia, Denmark, Dominican Republic, DR Congo, Ecuador, Egypt, Estonia, Ethiopia, France, Germany, Greece, Honduras, Hong Kong (China), Hungary, Iceland, India, Indonesia, Ireland, Israel, Italy, Japan, Jersey, Jordan, Kenya, Latvia, Lebanon, Luxembourg, Mali, Mauritius, Mexico, Mongolia, Morocco, Mozambique, Netherlands, New Zealand, Nigeria, Norway, Oman, Panama, Paraguay, Peru, Philippines, Poland, Portugal, Puerto Rico (US), Romania, Russia, Serbia, Sierra Leone, Singapore, Slovenia, South Africa, Spain, Sweden, Switzerland, Taiwan, Thailand, Tunisia, Turkey, Uganda, Ukraine, United Kingdom, United States, Uruguay, Zimbabwe.
There were 130 speakers that appeared on more than 35 panels and presentations. The keynote panel included Andrew Bowman, President of the Land Trust Alliance; Sally Jewell, a Nature Conservancy Global Board member and former US Secretary of the Interior; Zhang Li, Secretary-General of the Society of Entrepreneurs and Ecology Foundation (one of the largest Chinese nature NGOs ); Luthando Dziba, Director of Conservation Services for South African National Parks; and Jorg Andreas Kruger, President of the European Nature and Biodiversity Conservation Union. Among the other speakers were Peter Forbes, Founder of First Light; Jennifer Morris, CEO of The Nature Conservancy; Brian Foran, Chair of the Australian Land Conservation Alliance; Lisa McLaughlin, Vice President of the Nature Conservancy Canada; Mark Anderson Director of Conservation Science for the Eastern U.S. at The Nature Conservancy; Virginie Dezetter, Head of the Communication, Culture and Gender Program Amazónicos; Sharon Farrell Executive Vice President of Projects, Stewardship & Science at the Golden Gate National Parks Conservancy; David Meyers, Executive Director Conservation Finance Alliance; Sacha Spector Director, Environment Program at the Doris Duke Charitable Foundation; and Cissy Gore-Birch Executive Manager of Aboriginal Engagement at the Bush Heritage Australia. David Foster moderated a panel on Forest Restoration and Conservation at Scale with speakers from Indonesia, Romania, and the US. Miquel Rafa, the Director of Territory and Environment at the Fundacio Catalunya — La Pedrera, accepted a Conservation Visionary Award on behalf of the people of Catalonia (who have protected nearly 32% of their province's territory).
As nations around the world work towards ambitious targets to protect and restore biodiverse, climate-resilient ecosystems, private and civic land conservation is becoming increasingly significant at every scale- from micro reservas in Valencia, Spain to protected areas spanning tens of millions of hectares in Canada's Far North. Targets such as protecting 30% of lands by 2030 can only be reached by taking a collaborative and inclusive approach that leverages and builds on the capacity of a range of land stewards — landowners, communities, and civic organizations, among others — to undertake voluntary, durable, and effective land conservation action.
I was really amazed, what a masterpiece of organization! Really great quality of speakers. What was special was the variety of cultures, contexts, and points of view each of them carried along, while still having a common language and goal. I would like to thank each and every person that turned this event into yet another historical moment.

Angelo Salsi, European Commission's LIFE program that promotes nature conservation on private land.