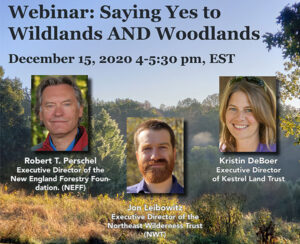 More than 400 participants tuned in for the December 15 webinar focused on Wildlands and Woodlands – and how both can play a vital role in conservation in New England. Bob Perschel, Executive Director of the New England Forestry Foundation (NEFF); Jon Leibowitz, Executive Director of the Northeast Wilderness Trust (NWT); and Kristin DeBoer, Executive Director of Kestrel Land Trust, shared their views and fielded dozens of questions on the value and imperative of working together to conserve critical forests in New England and beyond.
While NEFF and NWT address forest conservation in different ways, they both advance the case that wildland and woodland landscapes are critically important solutions to preserving a healthy planet for all of its inhabitants.
"These conservation leaders led an inspiring discussion about how New England can best protect and steward its forests in a balanced fashion as the region sits at the precipice of climate change, biodiversity loss, development, and forest fragmentation," says David Foster, Senior Conservationist at Harvard Forest and Board President of the Highstead Foundation, a sponsor of the webinar together with the Wildlands & Woodlands, Farmlands & Communities Initiative.
Bob, Jon and Kristen shared their perspectives on their organizations' efforts to support an integrated approach to conservation. The result: a more complete picture of forest conservation in the northeast and its one-of-a-kind role in serving the planet and its inhabitants.