Due to restrictions and limitations imposed by the Coronavirus epidemic, in the spring of 2020, the ALPINE Summer Institute staff pivoted to "bridge the gap" — that is, to reformat the program so that it could be carried out without two face-to-face weekend seminars. The Institute was for the first time held virtually, over a series of seven Zoom sessions held over eight weeks beginning on June 10 and concluding on July 29.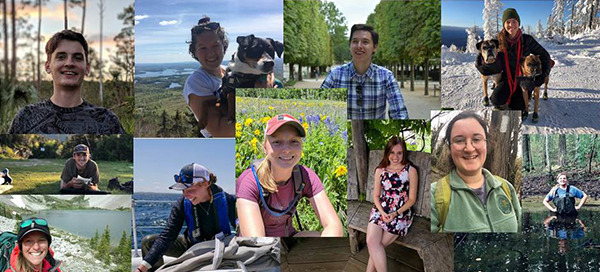 The five initial sessions dealt with different aspects of large landscape conservation, including one session focused on the issue of diversity, equity, and inclusion in the conservation field. The last 2 sessions were devoted to presentations on selected topics relevant to large landscape conservation by ALPINE Summer Institute participants. They were fortunate to have leading experts in the field share their expertise with them during the sessions, including David Foster, Leigh Youngblood, Bill Labich, Simon Rucker, and Karena Mahung.
We had twelve participants coming from institutions across New England including Smith College, Harvard University, Middlebury College, Greenfield Community College, University of Vermont, University of Massachusetts, and Unity College. Additionally, because the program was virtual this year, the Summer Institute expanded to include two participants from the University of Montana. Each of the Summer Institute participants had internships with or were employed for the summer by land conservation organizations. The participants came from a variety of backgrounds and levels of experience in land conservation; all of them wanted to learn more about the theory and practice of large landscape conservation and had a chance to think through, present, and write about a plan for a conservation initiative of interest to them. They were instructed to present on an "identified large landscape challenge" that is a tractable problem (a practical problem that appears to have a feasible solution) directly related to a particular large landscape. The projects should include the following questions:
What is the challenge they are proposing to address and what is its significance in a larger context
Why this initiative is important, describing the qualitative and quantitative benefits and co-benefits, as well as the potential dis-benefits, of this initiative
Where this place/initiative takes place
Who initiated the project – how homogenous, and how diverse is the team over the proposed life of the project
When and over what timeframe this strategy will be implemented
How this initiative is being organized, financed, governed, held accountable, managed, and stewarded, and what is the lasting impact of this initiative, does it have/will it have a lasting impact going forward?