The 2019 Regional Conservation Partnership Network Gathering included several new opportunities for university students (graduate and undergraduate) to learn more about real-world conservation in the Northeast, build their professional networks, and contribute their ideas to the meeting.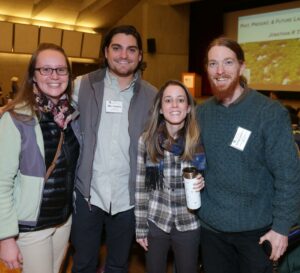 The student mentorship initiative connects students one-on-one with a conservation professional before, during, and after the meeting to share knowledge, set and achieve conference goals, and build their network. The mentorship program is designed for students who are entirely new to conservation and students with some experience in the field. 
In advance of the Gathering:
Mentors will contact students for an informal discussion (via phone, zoom, email) of the student's goals for the meeting and the logistics connecting on the day of the meeting.
Students will work flexibly with their mentor's availability to schedule this discussion and will come prepared with their conference plans.
During the Gathering (If held in person)
Students and mentors will connect during the Gathering at breakfast and lunch.
Mentors will seek to introduce their mentees to other professionals working in the field.
Students will attend a post-conference reflection session from 4:45 to 5:30 p.m.
After the Gathering:
Both students and mentors will complete a brief evaluation of the experience they had in the mentorship program. Students and mentors will connect via email or phone after the meeting to discuss takeaways and define next steps.